Cambridge University porters escort 'mollycoddled' ducks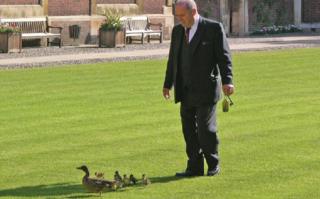 Cambridge University porters have taken to escorting "mollycoddled" ducks to water after they chose to nest in college grounds away from the river.
Mother ducks have been nesting at two colleges, but as they do not have direct access to water they are "walked" there by the porters.
It is an annual ritual, as the Cambridge News reported.
A St Catharine's College porter said while resident, the ducks' "every need is catered for".
A mother duck has been nesting there for at least 11 years, but Zoology professor William Sutherland, from the college, told the BBC this year she had chosen to nest in full view of students at the land-locked college, which was "unusual".
"Last year she hatched her chicks near the library but this year chose a wooden planter in the main court," said Prof Sutherland.
The college porters put up a flip chart to protect it from the strong sunlight last week, and an umbrella over the nest when heavy rain fell.
They also put out food and water.
When mum decided it was time to take her brood to water - which she did on Saturday afternoon - the porters "escorted them off the premises in an orderly fashion," Prof Sutherland, an ornithologist, added.
He described them as the "most mollycoddled" ducks.
You may also like:
Deputy head porter Simon Durrant said while resident the ducks' "every need is catered for" and they are even allowed to walk across the lawn, which is usually restricted to college fellows
However, the St Catharine's duck is not the only mother to choose a college to nest.
Corpus Christi has had a nesting duck for decades, and being even further from the water, the porters have to take the mother and ducklings across a main road - stopping traffic - before handing them to St Catharine's porters for the next stage of the escorted journey through Queens'.
The college believes the ducks' "descendants have passed the message down the generation" as the birds have "taken to the route like a duck to water".
The "duck walk" ritual
Open back gates
Shepherd out of the college
Guide across the lane
Phone Queens' College porters who will open their gates
Queens' porters then shepherd ducks down to the river
Source: Prof William Sutherland, St Catharine's College, Cambridge