Conservative candidate George Stoakley suspended over tweets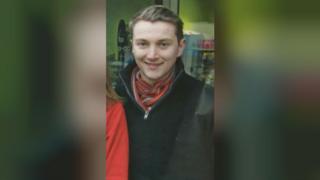 An aspiring Conservative councillor has been suspended after apparently making offensive comments on Twitter.
Among tweets allegedly composed by George Stoakley, 23, who is standing for election in Cambridgeshire, was one saying that he was "sweating like a Jew in an attic".
In another, Aids was likened to "weaponised semen". Mr Stoakley's tweets have since been made private.
A Tory spokesperson said he had been suspended and an inquiry was under way.
Mr Stoakley was chosen by the Conservative Party to stand for election in the Fen Ditton and Fulbourn ward in the south-east of the county.
On Thursday his party confirmed Mr Stoakley was suspended, pending an investigation.
The deadline for withdrawing has already passed, and so, despite the suspension, electoral law means his name and party will still appear on ballot papers for the South Cambridgeshire District Council elections.
The BBC has asked Mr Stoakley to comment about the tweets, which appeared on the social media site in 2013.
Other candidates standing for election in Fen Ditton and Fulbourn are:
Frances Amrani - Labour and Co-operative
Tim Andrews - Labour
Steve Bradshaw - Green
Graham Cone - Conservative
Claire Daunton - Liberal Democrat
Oliver Fisher - Green
Mark Lunn - Liberal Democrat
Cathie Rae - Labour
Rob Turner - Conservative
John Williams - Liberal Democrat