Grenade-shaped ecstasy 'sold to children' in Wisbech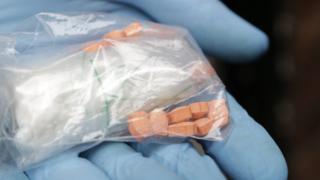 Grenade-shaped ecstasy tablets cut with bleach have been sold to children, police have said.
Cambridgeshire Police carried out raids across Wisbech after receiving information suggesting the drugs, in the shape of mini-grenades, were being peddled to local children.
Three men aged 26, 30, and 36, and a woman, 30, all from Wisbech, were arrested on suspicion of possession with intent to supply Class A drugs.
They are being held at King's Lynn.