Kenneth White: Huge turnout for no-family veteran funeral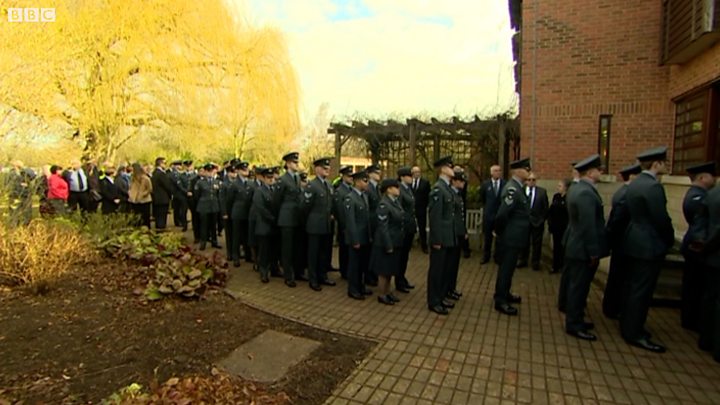 More than 100 people have attended the funeral of an RAF veteran with no known family, after a plea for mourners.
Kenneth White lived in St Ives, Cambridgeshire, and was 84 when he died in Hinchingbrooke Hospital in December.
Mr White was born in Barnsley and served in the RAF in the 1950s in Iraq and the Persian Gulf, but little else is known about him.
After a social media appeal for people to celebrate his life, his funeral had to be moved to a larger venue.
A coach-load from RAF Wyton and about dozen bikers were among those at his funeral at Cambridge Crematorium on Monday morning.
Alan Scott, of the St Ives branch of the Royal British Legion, said Hinchingbrooke Hospital made "lots of attempts" to trace any family.
"We don't know how he came to be living in this area and we don't know if he's always been single or has a family somewhere," he said.
Reverend Julie Chamberlin, who took the service, said the funeral was "completely full of people wanting to show care and respect out of loyalty to someone who has died alone".
She continued: "When something like this happens, social media gets used to its very best and people come great distances to show that love and support for somebody, that's a really moving thing.
"But in the service we made sure there was a time to reflect on those that do die alone and don't have the level of support at their funeral."
Martin Boswell, chairman of the Royal Anglian Regiment Association Cambridge branch, said when it heard of Mr White's death without any family, it wanted to "do him proud".
"It's a shame that having done what he'd done in his life, that nobody was there to support him, but at least in death we did."