Wrong-name Cambridge Half Marathon winner disqualified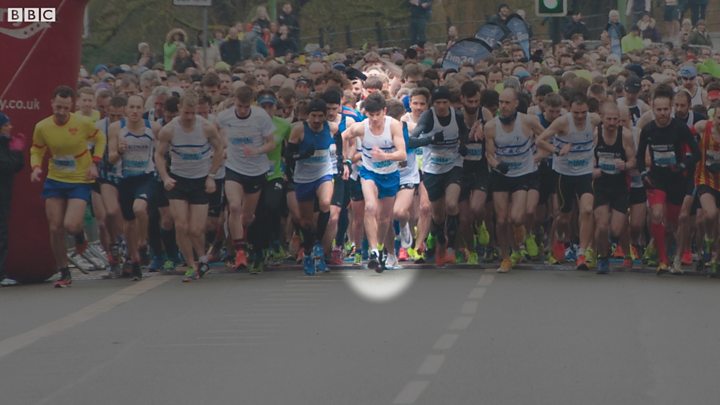 A man who ran his first half marathon, and won, was disqualified for running under his boss's name, having taken his place three days earlier.
Jack Gray, 24, ran the Cambridge Half Marathon on Sunday when his boss Andrew Rawlings was injured.
He said he tried to contact the organisers and did not get a reply, but confessed after crossing the line in first place.
Sheffield student William Mycroft, who came second, was declared the winner.
You may also like:
More than 7,000 runners took part in the event.
Mr Gray, who usually runs in 5km races, said: "My boss called on Thursday to ask if I wanted to take his place as he was injured, and I thought 'why not?'
"I thought it would be a shame for the place to go to waste and I made a donation to charity as I was now going to take part."
As he crossed the finish line in 66 minutes and 52 seconds, he heard the name "Andrew Rawlings" ringing out over the public address system.
"It dawned on me I might have a bit of explaining to do," he said.
"People were lining up to interview me, so I thought I'd better 'fess up straight away, and told the organisers I wasn't Andrew."
He was disqualified for running under the wrong name, but said he was "happy" when his Cambridge & Coleridge Athletic Club colleague was declared the winner with a time of 67 minutes and 11 seconds.
Mr Mycroft, who grew up in Cambridgeshire, referred to himself as "just the technical winner".
"It's a bit of a shame to win on a technicality, but I'm not going to complain."
The race organisers have been contacted for comment.