Peterborough City Hospital doctor interviewed over deaths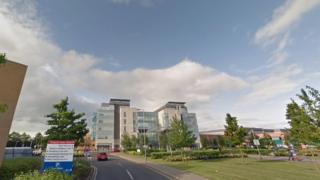 A hospital consultant has been interviewed by police over two patient deaths, it has been revealed.
Dr Andy Gregg, 48, who works at Peterborough City Hospital, was arrested on suspicion of gross negligent manslaughter and is on bail.
According to a High Court judgment, he is alleged to have "inappropriately hastened the death of patients in his care".
It adds: "Dr Gregg strenuously denies the allegations against him."
In a statement Dr Gregg, who is currently suspended from practice, told the BBC: "I am co-operating fully with the investigations but will not be commenting further at the present time while these are ongoing."
Inquiry into deaths
The High Court judgment was made public during a case brought by Dr Gregg against his employers that he won regarding pay.
It says the first patient to give rise to concern was a 41-year-old man who had leukaemia and was admitted to hospital at the end of 2015.
According to the judgment, on 4 January 2016, Dr Gregg took over as consultant and sedative and painkiller doses were increased before the patient died two hours later.
The police were informed and on 13 December 2016, Dr Gregg attended an interview with the police under caution.
The case was passed to the Crown Prosecution Service (CPS), which decided the case "did not cross the necessary threshold to charge Dr Gregg".
The trust then became aware of similar concerns in relation to a second patient who suffered a serious heart attack and came under the care of Dr Gregg, the judgment states.
He was sedated and died within 4.5 hours of being passed into Dr Gregg's care.
On 31 March 2017, Dr Gregg was arrested in relation to the second patient and remains on bail in relation to this case.
The court ruled in January that North West Anglia NHS Foundation Trust, which runs Peterborough City Hospital, cannot stop paying consultant anaesthetist Dr Gregg or start its own disciplinary process until the CPS decides whether to prosecute him.
The trust is considering an appeal.
'More cases investigated'
In the judgment, it was revealed the General Medical Council was "now investigating 16 further cases of concern" in relation to Dr Gregg, who started working at the hospital in September 2003.
It is not known whether any of these involved patient deaths.
But, five of these cases are also being investigated by police.
A Cambridgeshire Police spokesman said: "A 48-year-old man from the Peterborough area was arrested on 15 March, 2017, on suspicion of gross negligent manslaughter.
"He is currently on bail to return to Thorpe Wood Police Station in Peterborough on 12 June."
Dr Kanchan Rege, medical director at the trust, said: "We can confirm that a doctor employed by our trust is subject to a police investigation.
"It would be inappropriate for us to comment any further as the police investigation is ongoing. The doctor in question is not currently practising."