Tesco's too big bunch of bananas given to charities and schools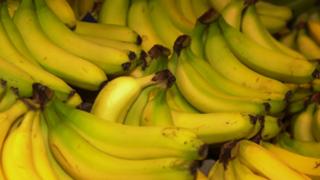 A supermarket that found itself with a glut of bananas has given them away to charities and schools.
Tesco in Milton, near Cambridge, ordered the bananas in bulk for the city's half-marathon on Sunday.
When many more arrived than expected, it appealed on social media for good causes that might benefit from the bananas to get in touch.
A bunch of schools and homeless charities were among the good causes to claim the fruit.
On a local Facebook group, the store's community liaison representative wrote: "We have received a large amount of bananas by mistake to store and we are looking for schools/care homes/clubs/non profit organisations who would appreciate the donation."
The fruitarian who eats 100 bananas a week
Battling to save the world's bananas
Although Tesco has not said how many extra bananas it was left with, one person helping with the appeal suggested it was "a few 100 kilos of bananas".
The company said it had "five cages" of the fruit left after half-marathon organisers took what they needed.
One local playgroup responded, saying "we can take a handful", others were keen to grab more than just one bunch.
Jimmy's, a night shelter for the homeless in the city centre, took 10 boxes, as did the village primary school.
Emmaus, a charity which supports homeless people and opened its first UK community in Cambridge, took 40 boxes.
A Tesco spokeswoman said the company was "committed to tackling food waste" through its Community Food Connection scheme, adding: "We were pleased to see the food used to benefit the community both at the marathon and elsewhere."