About 400 vehicles stranded in snow on A1 overnight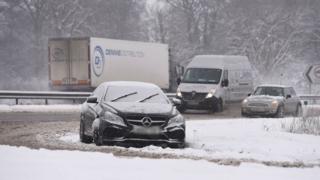 About 400 vehicles were trapped on the A1(M) overnight as heavy snow affected parts of the east of England.
Six lorries jack-knifed and hundreds of vehicles became trapped along a 20-mile (32km) stretch between Peterborough, and Stamford in Lincolnshire.
The road was closed in both directions for a "big recovery operation" involving police, Highways England and the ambulance service.
No injuries were reported and the road reopened at about 08:30 GMT.
Police from Cambridgeshire, Lincolnshire and Leicestershire worked with the East of England Ambulance Service to check on those who were unable to get off the road.
"The vast majority of those stuck were in lorries," a spokesman for the Cambridgeshire force, which led the recovery operation, said.
The first vehicle to get into difficulty was reported at about 23:30 on Tuesday near Peterborough, but poor conditions meant tailbacks built up and lorries became stuck along other stretches of the road.
Highways England said it closed off the A1(M) at about 01:00.
"It's been a very big recovery operation across three counties," said the organisation's Jack Tappin.
"[We] worked with ambulance staff and police to ensure the safety and welfare of people who had become stuck," he added.
In the early hours of Wednesday a snowplough had to be brought in under police escort to help get the traffic moving.
Problems on the A1 had a knock-on effect for the area's hospitals, with the North West Anglia NHS Foundation Trust tweeting an urgent message telling staff to go to their "nearest hospital, even if it's not your usual base, rather than risk travelling further in the snow".
The trust runs Peterborough City Hospital, Hinchingbrooke Hospital in Huntingdon, Cambridgeshire, and Stamford and Rutland Hospital in Lincolnshire, plus a number of smaller regional clinics.
Highways England confirmed shortly after 09:00 that recovery of all trapped vehicles had been completed and the road retreated, however, conditions were still poor and drivers have been urged to take care.