Stolen cavapoo Olive reunited with owners after campaign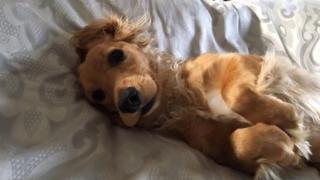 A dog stolen from outside a shop in Cambridge has been found about 110 miles away after thousands joined a social media campaign to locate it.
Cavapoo Olive was taken on 24 January, prompting owner Natalie King to set up the Get Olive Home campaign.
About 5,000 people joined from across the UK and 12 days later she was found.
Mrs King said Olive was bought in Wolverhampton in "good faith" but luckily the new owners saw her pleas and they were reunited.
Olive, an 18-month-old cavalier King Charles spaniel/poodle-cross had been taken for a walk by a family friend and briefly tied up outside a bicycle shop when she disappeared at about 14:00 GMT.
Mrs King said the family was "devastated" and immediately set up social media pages after informing the police.
"We knew she'd been stolen and would be sold on," Mrs King said.
A reward was offered, posters and banners were printed and within days thousands of people were following the story online and sharing the posts.
You might also like
"It was amazing, we had people in Scotland, Wales and Ireland looking for her, and people saying they were going on holiday to Cornwall and would take posters with them," Mrs King said.
The family dubbed their many followers "The Olive Army".
After "12 nights of trying", the family received a call from a couple in Wolverhampton.
They had bought Olive "in good faith but realised from Facebook she had been stolen and that she was loved", Mrs King said.
She and her husband made the 220-mile (355km) round-trip, paid the couple what they said they had paid for Olive and brought the dog home on Monday.
More than 2,000 people commented when Mrs King announced the news on Facebook.
Police are still investigating and checking CCTV, she said.
"We've got Olive back now, but we have to raise awareness of this crime... so that another family doesn't have to go through this," Mrs King added.