Sex attacker on run from HMP Peterborough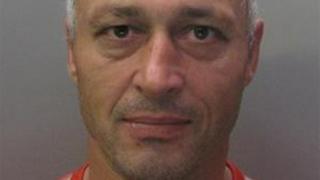 A sex attacker who has escaped from HMP Peterborough could be trying to return to Lithuania, police have said.
Gintautas Urbonas, 51, was serving a 12-year sentence at the privately-run jail for crimes including attempted rape, battery and sexual assault.
Cambridgeshire police urged people not to approach the "dangerous" Lithuanian national, but to call them immediately.
Det Ch Insp Mick Birchall said: "He could be heading for Lithuania - we are looking at ports and other travel."
The force warned anyone harbouring Urbonas, who vanished at 18:00 GMT on Friday and has a previous history of violence, could be prosecuted.
Det Ch Insp Birchall said officers were investigating the possibility that friends or associates could have concocted a plan to help him to escape and may be assisting him while he is on the run.
"It is likely he has left the area, but he could still be in Peterborough," he said.
"I would ask lorry drivers picking up hitch-hikers to be aware that this gentleman is at large and if they see anything suspicious to phone us.
"He is somebody we want to capture very soon so we can put him back behind bars where he needs to be."
A spokesman for prison operator Sodexo said it would not comment on how the inmate fled as it was a "live police investigation".
In a statement, the company said it was "supporting the police with their ongoing operation" and "investigating" the incident.
Concerns were raised by the prison watchdog earlier this week about the women's site at HMP Peterborough.
Inspectors rated the women's jail as "not sufficiently good" on safety.