Dullingham dog poo 'yoga move' sign goes viral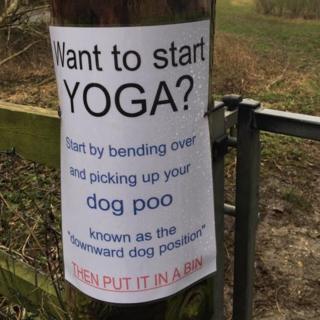 A woman who posted a picture of a sign suggesting yoga enthusiasts start by "picking up your dog poo" says she is amazed it went viral on social media.
Julie Murden, of Dullingham, Cambridgeshire, has seen her post on a local community Facebook page shared more than 60,000 times.
She said the sign was put up by a gate on a well-used footpath in the village.
Ms Murden said: "I was quite surprised it had so many shares and has apparently reached Dubai and Italy."
The poster asks: "Want to start YOGA? Start by bending over and picking up your dog poo - known as the "downward dog position" - THEN PUT IT IN A BIN."
While the "downward dog" is a real yoga move, it involves forming a right angle with hands and feet on the floor, rather than picking up animal excrement.
The village Facebook page has 320 followers.
"I spotted it and thought it was really humorous with a serious message," said Ms Murden, who does not know who put up the poster.
The footpath is used by children going to the local primary school.
"It is not nice treading in poo," said Ms Murden.
"What is even worse is some people bag up the poo and then leave it or throw the bag into the hedge."
She stressed that the majority of dog owners in the village did behave responsibly.