HMP Peterborough: Women's jail safety 'not sufficiently good'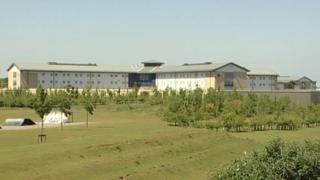 Concerns about safety at a women's jail have been raised by HM Inspectorate of Prisons (HMIP).
Inspectors rated the women's site at HMP Peterborough as "not sufficiently good" on safety.
Their report said inmates felt intimidated by verbal bullying and the use of force, and strip-searching at the jail was too high.
The prison said it had brought in an action plans to address the concerns raised.
Safety had been "reasonably good" at the previous inspection in 2014 but inspectors found a deterioration on the latest visit in September.
'Mixed report'
Chief Inspector of Prisons Peter Clarke said: "While levels of violence at the prison remained relatively low and similar to other women's local prisons, the findings of our survey were far more negative than previously about safety.
"Overall, this is a more mixed report than when we last inspected this prison.
"We were particularly concerned about safety and this is the first women's prison in several years to have been assessed as 'not sufficiently good' in this area."
Concern over safety in prisons has mainly focused on men's jails following a surge in assaults, self-harm and drug use.
HMP Peterborough, operated by Sodexo, is the only prison in England and Wales that holds both women and men on a single site.
HMIP raised concerns that instability on the male side was affecting the establishment's ability to focus sufficiently on the relatively more settled female prison.
Michael Spurr, chief executive of Her Majesty's Prison and Probation Service, said Sodexo had responded "swiftly and positively" to the inspection report.
A spokeswoman for the prison said: "We are disappointed to receive a lower score for safety."
She said the action plan "includes actions which improve our levels of governance around searches and use of force".