Lego-mad Huntingdon couple make Christmas doll's house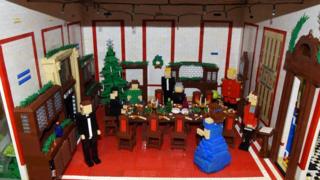 A Lego-mad couple are creating a giant brick-built Christmas decoration in their home for the 24th year running.
Mike Addis and Catherine Weightman are using 350,000 Lego pieces to build an 8ft (2.4m) doll's house in their Cambridgeshire lounge.
In the past they have built Christmas-themed Daleks, angels and a cathedral.
It is due to be finished before the festivities begin, but the couple admit their now grown-up children are "too embarrassed" to join in.
They are also beginning to "run out of ideas" for new creations, so this year's model has been based on the Huntingdon couple's own "far more modest" Victorian home.
The five-storey 15-room doll's house is the most time-consuming model the couple has attempted and everything inside the immaculately-detailed rooms has been made from Lego pieces - except the Christmas lights that adorn the house.
"Even the candelabras are made from Lego Star Wars lightsabers, we made the wreaths from tiny pieces and even made artwork for the walls from Lego," Mr Addis said.
The couple said they had to "buy a lot of new brown pieces" because each item of furniture is being made from individual bricks, and the drawers and cupboards all function.
Their Lego house also comes complete with bathrooms and has servants' quarters in the basement.
They began the big build in mid-October and are due to complete it in good time for Christmas.
"It will be tight this year as there are so many fiddly bits," Mr Addis added.
The couple began creating Lego Christmas decorations for their family in 1993, but plan to continue the tradition despite the children now living away from home.