Man urged to kill self by 'suicide advocate', court hears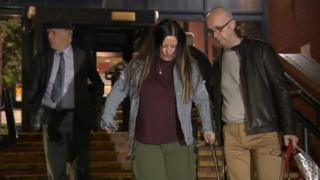 A man took his own life after entering into a suicide pact with a woman who left him to die alone, a court heard.
Natasha Gordon, 44, denies encouraging or assisting in the death of Matthew Birkinshaw, who was found dead in his car at Rutland Water.
Leicester Crown Court heard they made contact on an internet forum where the 31-year-old spoke of ending his life.
Ms Gordon had attempted to encourage six others to commit suicide, the prosecutor said in court.
During chats over the course of several days, Ms Gordon, of Paston, Peterborough, told postman Mr Birkinshaw she was prepared to be his "suicide partner", prosecutors said.
Suicide forums
In a message to Mr Birkinshaw, Gordon said: "I really can't wait to go tomorrow, I hope you do not change your mind."
Mr Birkinshaw travelled through the night from his home in Walsall, West Midlands, to the defendant's home on 17 December 2015.
During the journey, he was spotted on CCTV at services near Rothwell, Northamptonshire.
He was found dead later the same day in his car near Rutland Water, the UK's largest reservoir. He died of carbon monoxide poisoning.
The court was told Ms Gordon had left the car and walked to the nearby Best Western Hotel because she "couldn't go through with it".
Prosecutor Tim Cray said the defendant had been active on a number of suicide forums in the year before she met Mr Birkinshaw.
'Million miles from mercy'
He said she had been seeking a "suicide partner" and was "uber interested, if there is such a thing, in suicide".
Mr Cray said she was "prepared to say to people she hardly knew" that taking their own life "was the right thing to do".
"The evidence will show that within hours of meeting Matthew online, she was telling him she was prepared to be his suicide partner," he said.
"This is a million miles from a mercy killing. All the evidence shows she thought and talked about suicide and was prepared to tell people she'd just met that it was the right thing to do."
The court was told Mr Birkinshaw was in good health, part of a loving family and had a stable girlfriend.
The trial continues.