Hot air balloon lands in Waterbeach car park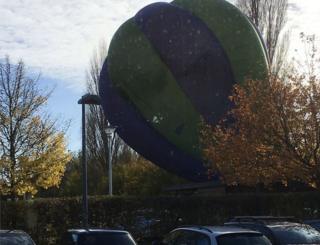 Office workers were left bewildered when a hot air balloon landed in their car park - with no pilot to be found.
The balloon and basket came "plummeting from the sky" at Cambridge Research Park in Waterbeach at about 11:00 GMT.
"We all rushed out to see if anyone was injured, however there was no-one to be seen," eyewitness Jack Langley said.
A Cambridgeshire Police spokesman said: "It was unmanned. Had taken off and then fallen back to Earth. No need for our attendance."
Cambridgeshire Fire Service said one crew went to the scene, but "no firefighting action was needed" and no injuries were reported.
Tweeting about the incident, Mr Langley, who works at the park, wrote: "Anyone know who dumped their hot air balloon in my works car park?"
The incident has been referred to the Civil Aviation Authority for investigation.