Boxer Tyson Fury's fury over Milton village traveller play park 'germs'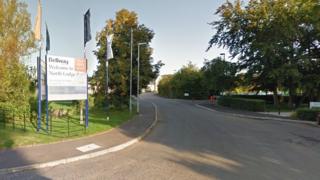 "Gypsy King" boxer Tyson Fury has waded in to a row after a parish council said a park needed to be "thoroughly cleaned" as traveller children who had used it were probably "unvaccinated".
An email to residents in North Lodge Park in Milton, Cambridgeshire, told them to keep their own children away.
The email said the advice came from a county council official, as the Cambridge News reported.
It was "totally unacceptable... to say traveller kids have germs", Fury said.
Milton Parish Council member David Burch sent the email to residents at the new development after a traveller family moved on to the site earlier this month.
The message, seen by the BBC, said the parish council had been "advised" by a council travellers liaison officer "that the play area will, as a precaution need to be thoroughly cleaned after the travellers have left the site as they do not normally have their children vaccinated etc and would be best to keep your children away until cleaning has been carried out".
"We will need to ensure that the area is taped off once the travellers have left until cleaning is completed," it concluded.
Former world heavyweight champion Fury, who comes from the traveller community, reacted strongly to reports about the email, saying on Twitter it was "totally unacceptable in 2017 to say traveller kids have germs", and calling for the councillor to be dismissed.
He later tweeted to invite Mr Burch to "come and inspect my kids anytime".
A Cambridgeshire County Council spokeswoman said: "Our officers offer parish and district councils general advice on a number of options relating to travellers if there is an illegal encampment, however, we are clear our officer did not say these alleged comments about unvaccinated children."
No-one from Milton Parish Council has responded to the BBC's request for a comment.