Neglect cited over patient Heather Loveridge's fire death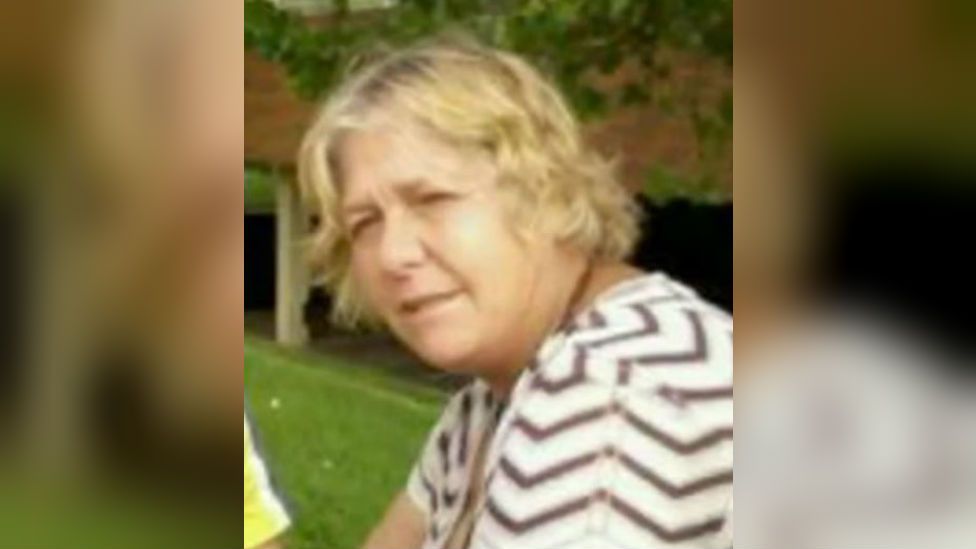 A mother-of-four found engulfed in flames in her room at a mental health unit died as a result of misadventure contributed to by neglect, an inquest has concluded.
Heather Loveridge, 56, who had psychotic depression, set herself on fire with a lighter from her handbag at the Cavell Centre in Peterborough.
She died two days later in August 2016.
The NHS trust which runs the centre admitted Mrs Loveridge's handbag had not been searched.
Mrs Loveridge, of Haddenham, Cambridgeshire, was found in her bedroom's en-suite toilet with her hair and clothes on fire. She had been admitted voluntarily to the ward one day earlier.
"There was no delay in locating Mrs Loveridge, and first aid treatment was appropriate," assistant coroner Belinda Cheney told the inquest jury at Huntingdon Town Hall.
However, she died two days later on 19 August 2016 in the specialist burns unit at Broomfield Hospital, in Chelmsford, Essex.
Earlier in the inquest, Mrs Loveridge's daughter - also called Heather - told the jury her mother had set fire to herself in 2013 when she was an in-patient at Fulbourn Hospital mental health facility near Cambridge.
She said she had told the Cavell Centre - which is run by Cambridgeshire and Peterborough NHS Foundation Trust - about the incident, asking for "reassurance they wouldn't let the same thing happen again".
Ms Cheney told the inquest jury: "The trust accepts there was a failure to search Mrs Loveridge's handbag.
"She shouldn't have been able to access a lighter while on the ward."
The inquest heard the trust had changed its admissions process since the incident.
However, Ms Cheney asked for further details in writing, adding: "I reserve my position on any report to prevent future deaths until we have had that update."
In a statement released after the inquest, medical director of the trust Dr Chess Denman, said: "The death of Heather Loveridge was a tragedy and we would like to extend our sincere apologies and condolences to her family and friends."
He said an internal investigation resulted in the trust "strengthening our processes around searching patients' belongings".
Mrs Loveridge's family also released a statement which said: "Losing her has ripped a hole in the lives of her eight siblings, seven grandchildren and four beloved children.
"We could not think of a more horrific way to die and grapple with the circumstances in which we have lost her every day."
Related Internet Links
The BBC is not responsible for the content of external sites.