Fault halts Flying Scotsman's trip from Ely to Norwich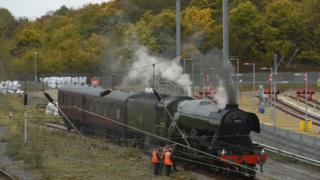 The Flying Scotsman has broken down on its way to East Anglia.
Thousands of people were expected to see the famous locomotive as it steamed its way eastwards from Ely at 17:30 BST.
It was due to arrive in Norwich at 19:00 BST but British Transport Police said it would travel no further than Peterborough "due to a failure".
Steam Dreams Rail Company apologised and said it was a "very unusual" occurrence for the middle of a journey.
A diesel engine will be used for the remainder of the trip.
Steam Dreams, which operates Flying Scotsman's journeys, said there was a fault with the hot axle box on the right-hand driving wheel.
A spokesman said: "The Cathedrals Express will be hauled instead by a vintage diesel locomotive this evening.
"Steam locomotives need 24 hours preparation so a failure like this during the day leaves us no choice but to run with diesel as the extent of the hotbox cannot be assessed until the locomotive has returned to a depot."
It added it was only the second time the locomotive has had any problems since it returned to the tracks in January 2016.
The National Railway Museum said it would provide an update following an inspection of the engine.