Driverless bus 'pod' tests under way in Cambridge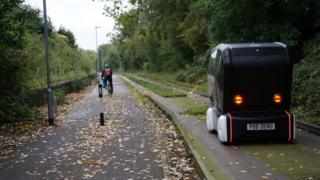 Tests have started on a new driverless bus system which could pave the way for an evening public transport service.
The RDM Group is using self-driving pods along the guided busway in Cambridge to test the feasibility of running 10-seater shuttles along the route.
If successful, the buses will run between Trumpington Park and Ride and Cambridge Station after 20:00.
The Greater Cambridge Partnership said it could meet the demand for services.
The feasibility study will deliver its findings in June 2018, the RDM Group said.
It said the £5m scheme to bring a fleet of buses could start soon afterwards.
Richard Fairchild, from the RDM Group, said the Trumpington to Cambridge guided busway was an "ideal route" for the driverless vehicles.
"It is segregated from the highway, allowing the pods to whizz up and down without traffic congestion slowing them down.
"It is also segregated from pedestrians and cyclists meaning it is a really safe route," he said.
Funded by Innovate UK, the £250,000 project is being delivered in partnership with Connecting Cambridgeshire and the Smart Cambridge Programme.
The project is also exploring the feasibility of a driverless service between Whittlesford Parkway station and the Wellcome Genome Campus.