Mustang's emergency landing 'carburettor related'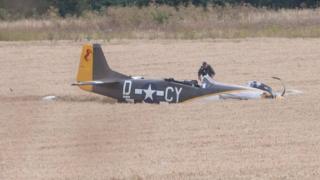 A World War Two aircraft whose pilot had to make an emergency landing in a field probably had carburettor problems, according to a report.
The Mustang was taking part in an air show at Duxford in Cambridgeshire on 9 July when its engine cut out twice.
The pilot landed the aircraft upright at about 15:20 BST and was unharmed.
The Air Accidents Investigation Branch (AAIB) said this "successful outcome" was due to the pilot readying the plane in time for a forced landing.
The 1945 American plane was one of a number of aircraft flying in sequence during the Imperial War Museum's Flying Legends show when it got into difficulties.
The AAIB was told the plane had been airborne for about 25 minutes and was climbing to 1,000ft (300m) when the engine stopped without warning.
The engine restarted before stopping for a second time.
The pilot climbed away from the formation and transmitted a warning while preparing for an emergency landing.
He told the investigators the engine stopped and started several times and he realised he would not make the runway.
He turned towards a cornfield east of the M11 motorway and was travelling at about 120mph when he made the landing.
Cambridgeshire Police had to close part of the motorway to deal with the incident.
The aeroplane, which is based at Duxford, has been returned to the USA for investigation and repair.
The AAIB report said the "cause of the engine stopping was not known, but based upon the reported symptoms, the maintenance agency suspected it to be carburettor related".
It concluded: "The pilot's recognition of the need to make a forced landing and configuring the aircraft in time for the landing ensured a successful outcome."