Police officer warned after being 'aggressive' on Tube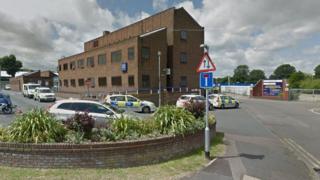 An off-duty police officer who became aggressive and tried to push past Tube ticket inspectors has been given a final written warning.
PC Josh Williams, of Cambridgeshire Police, was stopped at London's Leicester Square after passing through a ticket barrier in January 2016.
At a hearing, the 29-year-old admitted gross misconduct and said he was "deeply apologetic".
A senior officer said PC Williams had learnt from it and "matured".
Huntingdon-based PC Williams, an officer since 2011, was earlier convicted at a magistrates' court of using abusive and offensive language contrary to a railway byelaw.
At a separate misconduct hearing, at Biggleswade Town Council Offices in Bedfordshire, a panel recorded standards of professional behaviour had been breached in respect of discreditable conduct and authority, respect and courtesy.