Peregrine falcon 'shot with air rifle' near Cambridge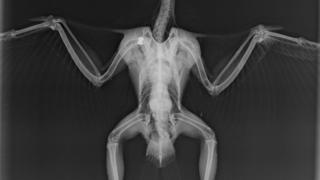 A wounded peregrine falcon found on the outskirts of Cambridge had probably been hit 10 days earlier by pellets from an air rifle, a vet has said.
A woman spotted the bird on the ground on 18 September and contacted the Raptor Foundation at Woodhurst in Cambridgeshire.
Its hospital manager Simon Dudhill said the damage to the protected bird's wings is so great it may not fly again.
Cambridgeshire Police is appealing for information.
The vet who treated the bird told Mr Dudhill it had lost so much weight he believed it had been shot between 10 days to a fortnight before its discovery.
Peregrine falcons catch their prey in mid-flight and by the time it was found it was unable to fly.
An X-ray revealed the remains of air pellets in both wings and initially the bird appeared to be recovering well.
Peregrine falcons
Peregrine falcons are the fastest birds in the world and can reach speeds of 200mph when diving for prey
There are about 2,000 in the UK
Anyone found guilty of killing or harming a peregrine could face an unlimited fine and/or six months in jail
Source: The RSPB
Mr Dudhill said: "The air pellet in one wing was close to the joint and this caused an infection and swelling.
"The swelling is down, but it can't extend its wing properly which means it can't fly at the moment."
Mr Dudhill said the falcon would need "intense physio" and a decision on its future will be taken in a week.
If the bird cannot catch its prey, it cannot return to the wild and will have to be put down.
A leg ring has identified it as one of three falcons fledged in Cambridgeshire earlier this year.
PC Alun Bradshaw said: "This was a senseless act, causing injury and distress to a protected bird."
He appealed for information about the incident.