Dzilva Butiene death: Accused 'hid in tent' to evade police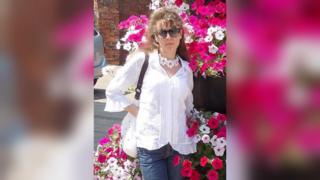 A factory worker was found hiding in a roadside tent in the days after his partner was found dead, a court heard.
The body of Dzilva Butiene, 48, was discovered in the flat she shared with Kestutis Bauzys in Wisbech, Cambridgeshire, on 5 April.
Cambridge Crown Court was told Mrs Butiene had more than 60 bruises and marks on her chest and abdomen - and died of internal bleeding.
The jury heard the couple were "lost in alcoholism". Mr Bauzys denies murder.
In her opening remarks, prosecutor Kate Bex QC told the court that Ms Butiene had been in a relationship with Mr Bauzys for four years.
On the day her body was found, Mr Bauzys, 46, had gone to a local off licence to buy vodka and beer, which he did several times a day, the court was told.
He was described by a neighbour who worked in the shop as "pale and nervous", and he said that "something had happened to his wife".
The jury was then told that the couple, described as "always drunk", slept on a mattress on the floor of the flat in Debenham Court, Orange Grove, Wisbech.
The alarm was raised by the son of a former flatmate, who discovered her lifeless body and dialled 999.
Her body was emaciated and she had "clearly been dead for some time", Ms Bex told the court.
She said a post-mortem examination revealed Ms Butiene's death was caused by "a forceful blow or blows, such as a punch, kick or stamp to her abdomen".
In the days following her death, Mr Bauzys stayed away from the flat, and was eventually found by police sleeping in a tent in a wooded area off the A47.
The trial is expected to last four weeks.