Peterborough hospital blunder: Girl awarded £20m in compensation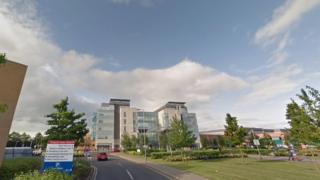 An 11-year-old girl left brain damaged at birth told a judge she wants to go on a dream trip to New York after being awarded more than £20m in compensation.
The child suffered the brain injury after blunders at Peterborough Hospital in 2006.
Errors made by medics at the hospital during her mother's pregnancy and her delivery starved her of oxygen, lawyers told the High Court.
North West Anglia NHS Foundation Trust agreed to pay damages of £22.1m.
The court heard that the girl, who cannot be identified, has cerebral palsy and learning difficulties, is wheelchair dependent and requires 24-hour care.
David Pittaway QC, for the girl, said that a settlement of the girl's claim had been reached.
'Sensible' settlement
NHS barrister, Sarah Vaughan Jones QC, repeated "the apology of the trust for the failure of care in this case".
She said the girl was a "delightful young lady who has the benefit of a splendid family who have given her sterling support".
Judge Rosalind Coe QC praised the girl's parents for the care they have lavished upon her, and told the youngster: "Now it is going to be easier for them to look after you."
Approving the "sensible" settlement, Judge Coe asked the girl if she had any plans for the future.
"I want to go to New York," she responded, which the judge said was a "splendid plan".
After the hearing, the girl's solicitor Olivia Scates, said it was a "truly tragic and distressing case".
"The life of this otherwise healthy girl and that of her family have been devastated by the mistakes made before and during the birth," she said.