Cambridge Fitzwilliam 'professor of swords' boy's personal tour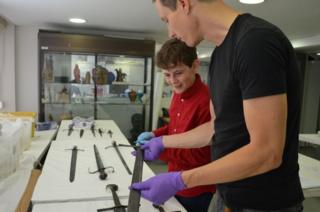 A boy who expressed a wish to become a "professor of swords" has been shown the sharp end of weapon conservation by museum specialists.
Anton Allegranza Quicke wrote to Cambridge's Fitzwilliam Museum after a visit earlier this month, asking advice on how to achieve his "dream career".
The museum was so impressed by his enthusiasm, staff arranged a behind-the-scenes tour for him to view the weapons up close and personal.
The 13-year-old said it was "great".
Anton, from south-east London, sent a letter to Fitzwilliam research assistant Helen Ritchie, saying: "I would really like your advice please about how I could become a professor of swords.
"Is there anything you think I should be doing to achieve my dream career?"
His tweeted letter impressed a number of academics, including experts at Leeds Royal Armouries, who said they would be "happy to help".
But his dream came a step closer when Anton's school allowed him to skip class to take up the Fitzwilliam Museum offer of a private "sword tour" on Friday afternoon.
He was able to see and touch medieval swords from the Fitzwilliam reserves collection not normally on display to the public.
"This type of one-to-one handling session is exceptional, but the museum does not often receive letters like this," Miss Ritchie said.
Afterwards, Anton said: "I'd always been drawn to weaponry, especially swords, they are such beautiful items. They tell us so much about cultural history at the time.
"It's great to go behind the scenes and see how the museum and collections work."
Miss Ritchie said the museum "endeavours to offer appropriate education opportunities wherever it can for young people who would like to be artists or curators".
"We are happy to do what we can to encourage his ambition to become a professor of swords."