Cambridge paedophile convinced child he was their 'boyfriend'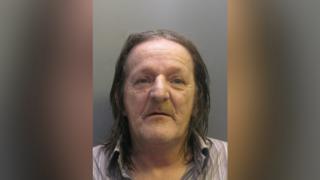 A "vicious paedophile" who convinced a child he was their "boyfriend" has been jailed for 27 years.
Robin Matthews, 63, of Hobart Road, Cambridge, took the child to woodland and said he would "bury them alive if they told anyone about the abuse".
Matthews was found guilty of 20 counts of child sexual abuse and one of child cruelty for offences between 1970 and the early 1990s with two children.
The victims were as young as four and the abuse lasted years.
Sentencing at Cambridge Crown Court, Judge David Farrell said Matthews was a "vile bully, prepared to use a younger child for [his] perverted sexual purposes".
The court heard that "aggressive" Matthews made "serious threats" to one victim and threatened violence if they "made any noise or protested".
One victim did try to speak out, the judge said, but "was not believed".
'Stolen childhood'
The judge added the child had been "let down by the authorities at the time" and by the age of 16 believed Matthews to be their boyfriend because of all the sexual things they had done together.
Eventually, Matthews was arrested in July 2015 after the pair disclosed the historic abuse.
In an impact statement read out in court by prosecutor Charles Myatt, one victim said they felt they had their "childhood stolen away" from them.
Det Con Helen Tebbit said: "I would like to thank the victims for giving evidence against Matthews.
"I know this would not have been easy, but I do hope they both find some closure knowing their abuser is now behind bars and they can move on with their lives."
Matthews was found guilty following a week-long trial of 13 counts of indecent assault, seven counts of buggery and one count of child cruelty.
On top of his 27-year prison sentence, he was given an extra year on licence and an order to prevent him from having contact with any children under the age of 18.