Free IVF no longer offered in county where it all began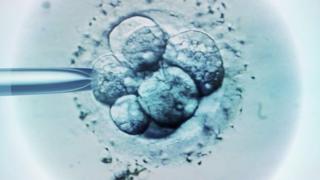 Free fertility treatment on the NHS is to be scrapped in the county where the procedure was pioneered 40 years ago.
The Cambridgeshire and Peterborough area has become the third place in the UK to withdraw free IVF treatment.
Government guidelines recommend that women under 40 should be offered three free cycles if they have been trying to conceive for three years.
The local clinical commissioning group (CCG) said the decision would save the county £700,000 a year.
It comes after a 20-week public consultation - and will stop with immediate effect. The decision will be reviewed next in April 2019.
Read more Cambridgeshire stories here
Clinical commissioning groups in Croydon and parts of Essex were the first to withdraw routine free IVF treatment on the NHS.
Cambridgeshire and Peterborough CCG chair Dr Gary Howsam, said it was "one of the hardest decisions we've had to take".
"I think there's a recognition that the NHS funding situation is desperate in our region," he said.
"The CCG has finite resources to fund a whole range of health services and treatments.
"We need to save £46.5m this financial year, and so we have had to review all areas of our spending and to make some difficult decisions."
He described suspending routine specialist fertility services as "financially necessary".
'Devastating'
IVF was pioneered by biologist Robert Edwards, who with gynaecologist Patrick Steptoe, fertilised the first human egg in a Cambridge laboratory in 1978.
Since then, nearly four million children have been born using the technology.
Cambridge University Hospitals Trust, which provides the local NHS IVF service, said it was still committed to helping as many patients as possible start families.
Consultant embryologist Stephen Harbottle described the decision as "devastating".
"NHS care should be available equitably to everyone. Even within the eastern region, care is still available but the people of Cambridgeshire and Peterborough will not have access to it.
"People see IVF treatment as non-essential care but the effect of withdrawing it can be devastating for their mental health, their relationships, and financially."
He said patients could now expect to pay a minimum of £4,000-£5,000 per treatment cycle.
More than 2,300 people have signed an online petition calling for the CCG to reverse its decision.
The CCG added that only a handful of exceptions would apply, such as for patients undergoing cancer treatment that could make them infertile.
Couples who had already been referred for specialist fertility services would still receive one cycle of IVF.
Infertility affects one in six people and is categorised as a disease by the World Health Organisation (WHO).