Life-saving heart surgery a success for 'smallest puppy'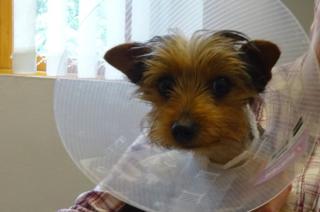 Vets have performed life-saving heart surgery on what is believed to be the smallest dog to undergo the procedure.
Yorkshire terrier Jago was born with a heart valve defect, but at 3lb (1.4kg) was too small for vets in Cambridgeshire to treat.
They had to wait until he was 5lb (2.4kg) to insert a balloon catheter.
Although specialists perform this operation Jago is the smallest patient "to our knowledge", said vets at Dick White Referrals.
The puppy, whose owners live in Lowestoft, Suffolk, was seven weeks old when he was diagnosed with valve defect.
It was a "precarious start" and the prognosis was "poor", vets said.
But at six months he had gained enough weight to make the complicated surgery possible.
Even then, the puppy was at the "lower limit of feasibility", Jon Wray, head of cardiology at the specialist centre said.
His owners were "devastated at the prospect of losing their beloved pet at such a very young age", a spokeswoman for the surgery said.
A small balloon catheter was inserted and inflated in the malformed valve to take the pressure off his heart.
"The procedure presented significant challenges because of the extremely small size of the patient," Mr Wray said.
"This was the smallest dog to undergo the procedure at our centre to date, and is towards the lower limit of feasibility for interventional cardiology procedures," he said.
The keyhole surgery took 90 minutes and cost Jago's owners Jennifer Daniels and Melita Chynoweth about £3,600.
"Jago means the world to us and we had to give him a chance for a full and happy life. We are so grateful," they said.