The city where children go to school in a plywood box
By Orla Moore & Laurence Cawley
BBC East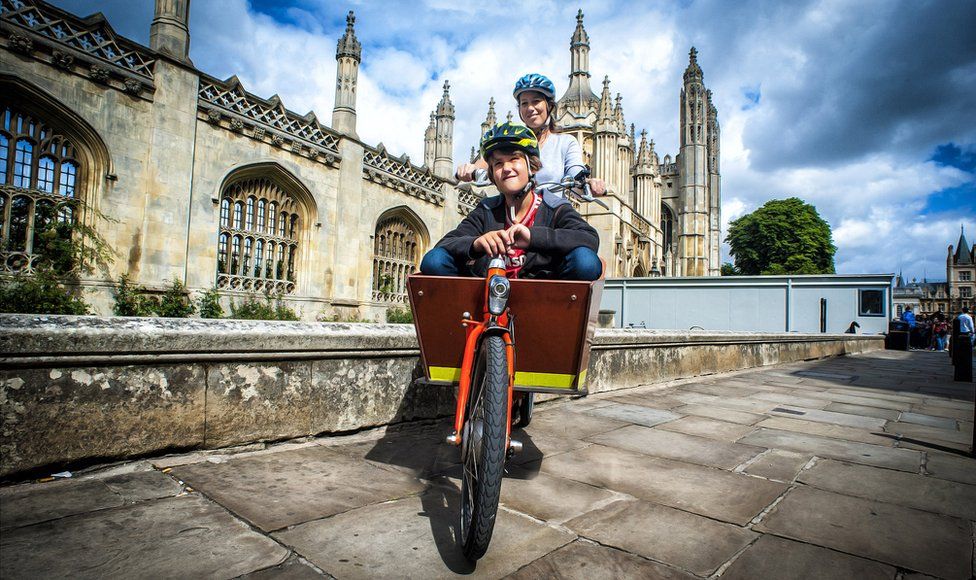 There's a new kid on the school run block - the cargo bike. And in one particular university city, parents are eagerly embracing them.
"Initially the kids thought it was magic - now it's just part of the furniture."
Dr Sara Lear is the proud owner of a "box bike" which was designed in the Netherlands in the late 1990s for ferrying children around.
While most are two-wheeled, hers is a three-wheeled model used to transport Dan, aged eight, Susie, six, and five-year-old Jim on their two-mile (3.2km) daily trip to school in Cambridge.
"They like taking friends for rides and they like that it saves them the legwork, the lazy worms," she joked.
The box bike has a large wooden container between the handlebars and the front wheel.
It is a descendant of the cargo bike, which has an illustrious history as the delivery vehicle of choice for butchers and bakers for more than a century.
Collectively known as "bakfietsen" - Dutch for box bikes - there are now a variety of versions on the market costing £1,500 or more.
The twist with the modern-day box bike is that children have become the cargo.
Nobody knows exactly how many cargo bikes are out there.
The reason for this is that most are built by boutique makers and largely sold by independent bike shops rather than large chains.
Independent market researchers Mintel said the cargo bike share of the £1bn annual UK bike industry was not yet large enough to claim a bar on a chart.
Steve Garidis, operations director at the Bicycle Association, said although it is known that 95% of all bikes on sale are imported, the breakdown of what types of bikes are being brought in is hard to pinpoint.
He said getting better data was something the association was "trying to tackle".
Exact numbers aside, what is clear is that Cambridge is home to a cargo bike boom.
The ground level of the city's railway station cycle park is given over entirely to cargo bikes.
And the original box bike company, Bakfiets, said it had sold more of its box bikes in the university city - more than 500 to date - than in any other place of its size outside its native Netherlands.
The idea of marrying a wooden box with a standard push bike for the school run came from an unlikely source - an expert in prosthetics.
Maartin van Andel, who lives in Amsterdam, wanted a means of taking his children to school without having to drive his car. The answer was the box bike.
He said he made the first wooden one specifically for children in 1999.
"I just wanted to make my own life easier," he remembers. "I had no intention to make something commercial. It was convenient - and it was easy and cheap to make it using wood."
"I took the design around but no-one was interested in it at first, so I was obliged to start my own business.
"When other parents said they wanted one too, I ended up making 10 myself. It took off from there."
Hugh Salt, a friend of the inventor, later brought the unusual cycle to Cambridge. Mr Van Andel describes him as "my first British dealer".
Mr Salt now runs a business selling and servicing the bikes in the city's Hope Yard.
He says the rise in popularity of box bikes is down to the cosmopolitan population built around the university and a flat landscape.
"The science park, the university colleges, the hospital - they're all accessible by bike," he says.
"You can be very time efficient down to the last minute."
The city currently has about 80 miles of cycle paths and wider cycle lanes are emerging in many of its commuter routes.
Roxanne De Beaux, of Camcycle, said the city's infrastructure needed improvement to encourage more people to cycle.
"While cycling is very safe it's the perception of danger that people base their decisions on - and sharing space with fast-moving traffic is not pleasant even for experienced cyclists," she said.
"What we need are more protected cycle [routes] with adequate width for these kinds of bikes and for people to cycle alongside each other, especially parents and children."
The original Bakfiets cargo bike
The wooden box is made of bonded plywood attached to a steel frame
Two-seaters weigh in at 40kg (6st)
They are made at the Azor bicycle factory in Hoogeveen, about 100 miles (160km) from Amsterdam
Dr Emily Dourish uses a cargo bike to ferry Eleanor, aged six, almost two miles each day to school.
Her other daughter Sarah, eight, now cycles separately.
"The best thing is being able to chuck all your stuff in, swimming bags, violins and so on and knowing that they'll stay dry if it rains.
"Now that we have it, I am a complete evangelist. And it keeps me fit.
"It can be a bit scary on windy days - with just two wheels it feels like we get buffeted around sometimes."
The question of box bike safety has left some flummoxed.
In 2013, for example, a father on a cargo bike in London made national news after he was pulled over by a police officer wanting to know if it was legal.
The Royal Society for the Prevention of Accidents said it did not yet have enough information about the safety of cargo bikes to offer a view on them but would keep a watchful eye on their growing use in case any issues emerge.
Although a European safety standard exists for bicycles, there is not one yet written for cargo or box bikes.
The British Standards Institute said it would be involved in the process. If a new standard was needed, the institute said, it might not be completed until 2020.
Sam Jones, of Cycling UK, said the child-carrying bikes provided a viable and safe alternative to the car.
"The long wheel base and low centre of gravity of most cargo bikes also makes them more stable - and therefore easier to ride and safer."
Although the city is awash with them, Cambridge is not the only place to witness the rise of the cargo bike.
In London, various cycle hire companies offer cargo bikes. In Manchester, university staff can get free use of a cargo bike as part of an EU-funded scheme.
Waltham Forest Borough Council has also got in on the action, beginning a year-long trial this month offering various types of cargo bikes on free short-term loans.
But whether the cargo bike is a fad or here to stay remains to be seen.
"When the children were small they loved chatting and singing songs at each other and me, and waving at people like the Queen," Dr Dourish said.
"It's mainly tourists who point and take photos. The novelty has worn off for most Cambridge people."
Photography: Laurence Cawley and Orla Moore
Related Internet Links
The BBC is not responsible for the content of external sites.