Cambridgeshire taxi drivers' list of convictions revealed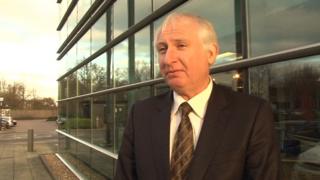 Taxi drivers in Cambridgeshire have convictions for violence, drug offences and fraud, a BBC investigation has found.
Under Freedom of Information laws, South Cambridgeshire District Council refused to say how many drivers had criminal convictions.
But it did release a list of 22 different offences committed by drivers.
The council said it carried out "the most thorough checks available".
The offences include being drunk and disorderly, battery, common assault, possession of an offensive weapon, assault occasioning actual bodily harm, possession of cannabis, aggravated vehicle taking and affray.
Government legislation introduced in 2011 allows Hackney carriage drivers to operate anywhere in the country as private hire drivers.
Cambridge MP and shadow transport minister Daniel Zeichner said he was "really concerned" for people's safety.
Taxi licensing policies
The BBC examined local authority taxi policies throughout the East of England.
South Cambridgeshire Council says it will not grant a taxi licence to anyone on the sex offenders register
The Local Government Association (LGA), which declined to comment on the policies of individual councils, issued its own guidance in December. It says if an applicant has a previous conviction for a sexual offence, a violent offence or driving offence involving a loss of life then they will be refused a licence
One of the more stringent policies is found in Milton Keynes, where the council introduced a new policy after it was discovered it had previously granted a licence to serial rapist, Nadeem Kiani. He had four convictions for rape and sexual assault
The authority's new policy says a licence will not be granted to applicants with convictions for rape and other sexual convictions, or for violent offences including murder, manslaughter and culpable homicide while driving. Offences such as GBH and possession of a firearm come with a 10-year wait, while for ABH, common assault and battery it is five years
"It seems absurd you have a licensing system that allows someone to be rejected in the city and just go down the road and get a licence," Labour MP Mr Zeichner said.
Mark Joyce, a Hackney carriage driver who operates in Cambridge city centre, said he had been through a "very strict" process to get a licence with Cambridge City Council.
He said he did not believe the same quality of checks took place in South Cambridgeshire.
"I think it is very dangerous," he said. "It is well known if you can't get a licence with the city, then you go to South Cambs and you are issued one almost immediately."
Another taxi driver, who asked to remain anonymous, said some South Cambridgeshire drivers had "somewhat suspect backgrounds" and had "lost their licences at Cambridge City Council and immediately gone to South Cambs and gained new licences there".
He said these drivers had committed offences involving violence and drugs.
"I feel a licensing authority must take into account the rulings of another," he said.
Councillor Mark Howell, South Cambridgeshire District Council's cabinet member for health and environmental services, said the authority carried out "the most through checks available on every licence application," including police checks on historical offences.
"By holding this information we can check each driver's record in full, and take swift action, if any new information is presented while they hold a licence," he added.
Mr Howell said the authority supported consistency across the country "as not all councils hold the information we do about drivers".
A spokesman for the government said public safety was "paramount" and that a bill being introduced this year would "give us the powers to introduce even tougher statutory guidance for councils".
"We expect all councils to carry out criminal record checks for all drivers and check they have the licences they need to carry passengers - and we have made that clear in guidance," he said.