Bourn Airfield near-miss: Pilot's 'swift actions' avoided crash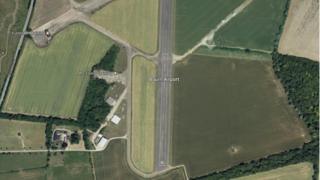 The swift actions of a light aircraft pilot avoided a "catastrophic event" over the skies of Cambridgeshire, an air report has concluded.
The pilot of a two-engine Islander was forced into a steep dive in July 2016 after spotting another plane coming towards him from the left. It got within 100m (328ft).
It happened near Bourn Airfield, about 10 miles west of Cambridge.
An Airprox report said the pilot of the unknown aircraft could not be traced.
According to the air accident detail, the Islander pilot had to shut off power levers and put the aircraft into a steep descent in order to avoid a collision.
It said he believed the second aircraft was a bi-plane, referred to as "pop-up traffic".
Risk of a "catastrophic event" was high, and the aircraft descended 600ft before straightening up, the report said.
The pilot was not injured.
'Good lookout'
The incident, known in aviation terms as an airprox, was reported to RAF Lakenheath in Suffolk.
The report was compiled by the UK Airprox Board, which assesses and investigates all incidents involving civil and military aircraft in UK airspace.
"If it were not for the prompt and deliberate actions of the handling pilot this would almost certainly have been a catastrophic event as the civilian aircraft was not seen to have manoeuvred until they were clear," the report said.
The board determined that the second aircraft had "probably not seen the Islander" and that coupled with the late sighting by the Islander pilot were considered to have been the key factors in this airprox.
"This is a good example of the necessity of good lookout whilst operating within busy airspace, even if you are being provided with a suitable ATS (air traffic service)," it said.