Dogs abandoned as police investigate hare coursing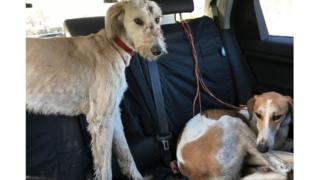 A new home is being sought for two dogs abandoned during a rural police operation in Cambridgeshire.
Officers from the county's Rural Action Crime Team were attending reports of illegal hare coursing in Long Drove, near Huntingdon.
Police say three men fled the scene, but left the two animals behind.
Coursers drive on to arable farmland and set dogs - usually greyhounds, lurchers or salukis - after hares.
The practice has been illegal in the UK since 2005.
A spokesman for Cambridgeshire Police said they were called to the area on Tuesday.
Three men ran off and the dogs were later picked up between the villages of Earith and Haddeham.
The police spokesman said: "The dogs have been rescued and are now looking for loving new homes via a local charity."