Cambridge 'ghost roundabout' given eyes and mouth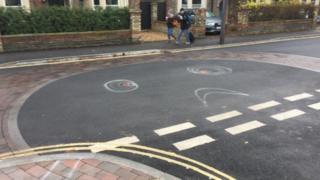 An unusual traffic calming measure dubbed an "urban crop circle" has been given a spooky makeover.
Eyes and a mouth have appeared on the new "ghost roundabout" on Tenison Road in Cambridge.
The red brick circle, designed to slow traffic by confusing drivers, was completed in November at a cost of £500,000.
A council spokesman said the graffiti would be removed as soon as possible.
The feature straddles the pavement and the road along a popular rat-run that connects the city's busy Mill Road and the railway station.
It took seven months to install and was immediately ridiculed on social media, with some describing it as a "UFO landing pad" and an "urban crop circle".
The design, which was approved by local residents after a lengthy consultation, is in fact a roundel, or ghost roundabout.
However, it was met with confusion and blasted as a "waste of money".
For more on this story and other Cambridgeshire news
Social media comments included suggestions it appeared like "the world's smallest velodrome", "an entry for the Turner Prize" and an April's Fool joke.
Attempts were made on Tuesday to remove the graffiti, which was made using using red and white paint.
A Cambridgeshire County Council spokesman said: "Where we see graffiti or it is brought to our attention we will try to remove it as soon as possible."