Vladimir Bukovsky indecent images not put on PC 'remotely'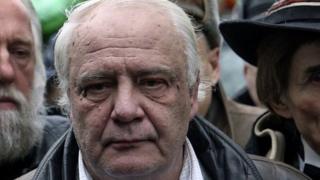 There is no evidence that indecent images of children found on a Russian dissident's computer were remotely placed on it, a court has heard.
Vladimir Bukovsky, 73, of Cambridge, denies 11 counts of making and possessing indecent images of children.
Cambridge Crown Court heard Mr Bukovsky's computer was examined by Dr Howard Chivers.
He said the evidence supported the view the images were placed there by the user and not by a third party.
Live: For more on this and other Cambridgeshire stories
Dr Chivers, a former worker for British intelligence's listening post GCHQ, runs a cyber security company.
He was asked whether, in normal circumstances, the user would be aware of the indecent material on the computer.
"Did you find that the user of the desktop applications would immediately be shown files which are suggestive of child pornography?", asked the prosecutor William Carter.
Yes," replied Dr Chivers.
Traced activity
On Monday the court heard that Mr Bukovsky was arrested after police monitoring child abuse websites traced activity to his computer.
Mr Carter said some of the material found on hard drives at the defendant's home involved children of toddler age.
When analysed, the drives on his computer were found to contain thousands of images and videos of child abuse. Many were designated category A, the most extreme.
Mr Bukovsky told the police after his arrest that he did not realise downloading the images was a crime as he considered it similar to "stamp collecting".
The court heard that Mr Bukovsky became curious at the end of the 1990s about issues involving control of and censorship of the internet and decided to look into what was available online.
The trial continues.