Vladimir Bukovsky child abuse images 'were research', trial hears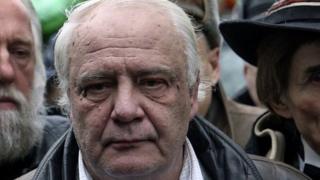 A Russian dissident accused of possessing thousands of indecent photographs of children said he was doing research, a court has heard.
Vladimir Bukovsky, 73, of Cambridge, is accused of accessing photos and images over a 15-year period, a jury at Cambridge Crown Court was told.
Will Carter, prosecuting, said some of the material found on hard drives at the defendant's home involved children of toddler age.
Mr Bukovsky denies the charges.
Live: For more on this and other Cambridgeshire stories
Mr Bukovsky told police he became curious at the end of the 1990s about issues involving control of and censorship of the internet and decided to look into what was available online, Mr Carter claimed.
He said the pensioner, who was living alone in Cambridge when he was arrested in 2014, said it had become something of a hobby which he told no-one else about.
Mr Carter said: "What he said was that his initial curiosity turned into a hobby, rather like stamp-collecting."
Bukovsky denies five counts of making indecent images of children, five of possessing indecent images of children and one of possessing a prohibited image of a child.
Mr Carter said Mr Bukovsky had told police that he considered he was not harming anyone or committing any crime by looking at the images.
The barrister said Bukovsky had noted that "they (those in the images) looked to him as if they were enjoying themselves".
Russian-born Bukovsky is an author and activist who became well-known internationally as a vocal critic of the Soviet regime.
Mr Carter said: "The prosecution says that there was another side to this man which was far from laudable, an extensive interest in real children really being abused."
The trial continues.