Two jailed for Ali Qasemi pizza delivery killing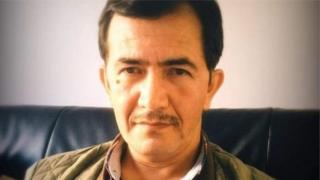 Two men who killed a takeaway delivery driver in a "snatch-and-grab" robbery for three pizzas have been jailed.
Pizza Hut worker Ali Qasemi, 45, died in May, two days after he was punched and left dying on the pavement in Peterborough.
Mark Lintott, 29, of Peterborough, who was found guilty of robbery and manslaughter, was jailed for 13 years.
Joel Lawson, 25, of Norwich, who admitted both charges, was jailed for nine years.
During Lintott's trial at Peterborough Crown Court last month, jurors heard how he and Lawson had been drinking with friends when they came up with their plan to take the food, worth £50, without paying.
Prosecutor Gregory Perrins told the court that when Mr Qasemi arrived "they came out of the flat intending to take those pizzas by force".
Lawson punched Mr Qasemi, causing him to fall and hit his head.
'Breaks my heart'
They left him dying on the pavement outside and went back inside to continue partying, Mr Perrins said.
A passerby called an ambulance.
Mr Qasemi, a married father-of-two, died from a serious head injury following the attack on 8 May.
His wife Fawzia, who was pregnant at the time of his death, said: "The fact our baby won't be able to see him, to hold his hand, breaks my heart."
Mr Qasemi was the "backbone" of the family, she said in a victim impact statement.
"I will never overcome the pain and hurt of losing him in such a tragic way."
Sentencing Lintott and Lawson at Cambridge Crown Court, Judge David Farrell told them: "Neither of you showed an ounce of concern for the welfare of the man you had been party to knocking to the ground.
"You both ate the pizzas, laughed and joked about what had just gone on."
They had robbed a family "of a hardworking and much-loved man", he added.
Following Mr Qasemi's death, Pizza Hut UK said it had reviewed its training methods for drivers.