Simon Ball trial: Teacher's ex-wife 'told to lie'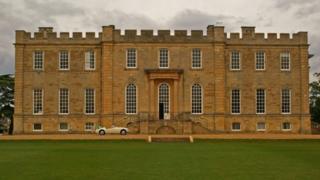 The ex-wife of a teacher who allegedly had sex with a pupil on top of her wedding dress has told a court that he urged her to lie to police.
Hannah Atherton split from her then husband Simon Ball over text messages he sent to pupils, jurors were told.
Mr Ball, 42, has admitted five counts of engaging in sexual activity while in a position of trust at Kimbolton School in Cambridgeshire.
He denies indecency charges relating to his time at a North Yorkshire school.
Mrs Atherton told Peterborough Crown Court that following the split he told her he was being investigated by police, that the allegations were "malicious" and that officers would ask her about her wedding dress.
"He asked me to say I had disposed of the wedding dress myself," she said. "He gave me the reason that there were stains on the wedding dress and he had therefore had to throw it away, but if I said it he wouldn't get into trouble."
Mr Ball, 42, of Greenwich, south-east London, is accused of sexually abusing three female pupils at the private Giggleswick School, near Settle.
Jurors were told he escaped prosecution before offending again at Kimbolton School, near Huntingdon.
Mr Ball was a teacher at Giggleswick when the alleged offences happened in the early 2000s but was not charged and left for a job at Kimbolton School during the investigation, said Gregory Perrins, prosecuting.
The Giggleswick investigation was reopened after a former Kimbolton School pupil reported Mr Ball to police last year.
He denies four counts of indecent assault and five counts of engaging in sexual activity while in a position of trust at Giggleswick School.
The trial continues.