Nurse cautioned over 'offensive' Soham murder comments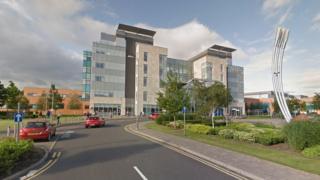 A nurse who made comments about infidelity, disabled people and murdered schoolgirls Holly Wells and Jessica Chapman has been cautioned.
Ravi Dass admitted making a number of "offensive" comments when working at Peterborough and Stamford NHS Trust between 2012 and 2014.
They included suggesting Paralympic athletes should be "culled".
In a statement to the Nursing and Midwifery Council, Mr Dass said he was "extremely sorry".
Live: For more on this and other stories from Cambridgeshire
A conduct panel heard Mr Dass was running the sexual health department when he made the comments.
He twice made references to separate colleagues about Holly Wells and Jessica Chapman, who disappeared before their bodies were found in shallow graves near RAF Lakenheath in 2002.
'Deeply sorry'
Asked by a colleague whether the garden centre in Soham was close to "where the two little girls were murdered", Mr Dass answered "that is why the flowers are growing so well in the area".
He also admitted:
Saying all Paralympians should be "culled", or words to that effect
Suggesting that most men have affairs when their other halves are heavily pregnant, or words to that effect, when a colleague was pregnant
Asking the husband of a pregnant colleague if the man would feed from her breast
Using offensive language
In his letter to the panel, Mr Dass, who left the trust in 2015 and who now works for Barts Sexual Health Centre, said: "I deeply regret making the offensive comments about breastfeeding, the murdered girls of Soham, infidelity etc all of which were insensitive and I realised how upsetting and hurtful it would have been to my colleagues.
"I have caused an immense amount of stress to my colleagues for which I am deeply sorry."
He said his "comments about disabled people were stupid".
In its statement to the panel, Barts NHS Trust said Mr Dass was "direct, polite and professional".
The panel gave Mr Dass a caution for five years after finding he had "demonstrated sufficient insight into his misconduct and past behaviour".