Missing man Terry McSpadden probably dead, coroner rules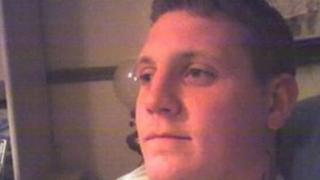 A father-of-two who went missing nearly 10 years ago probably died, a coroner has said.
Terry McSpadden, 24, from Elm, Cambridgeshire, disappeared after spending the evening of 1 March 2007 in The Locomotive pub in Wisbech.
Recording an open verdict at Tuesday's inquest, coroner Jacqueline Lake ruled Mr McSpadden died on 2 March 2007.
A friend was charged with his murder in 2012, but the case was later dismissed due to insufficient evidence.
Jonathon Porter was at the Norwich inquest, but did not answer all questions following advice from his lawyer.
The inquest heard Mr McSpadden was living with Mr Porter at the time of his disappearance.
He was last seen alive, on CCTV, at a Tesco store in Wisbech with Mr Porter at 01:10 GMT on 2 March 2007.
Electronic tag
The inquest heard Mr McSpadden's phone had been active two to three days after he disappeared and that someone sent messages from it.
He was wearing an electronic tag at the time and its last record showed he was at Mr Porter's house at 08:43 on 2 March.
The inquest also heard that, two weeks before his death, Mr McSpadden reported waking up encased in bubble wrap or cling film, leaving him feeling scared.
He was cut free from the wrap by Mr Porter.
The coroner said: "Because of a balance of probabilities, Terry has died. There is no confirmed medical cause of death because his body has never been found."
After the hearing, Det Ch Insp Marie James appealed for more information.
She said: "Over time loyalties change and relationships alter. There may be someone willing to offer information now who didn't feel able to at the time."