Widow's outburst in Peterborough pizza delivery man's death trial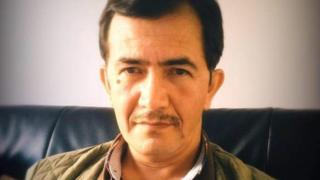 The widow of a pizza delivery driver killed in an attempted robbery screamed "you're evil" as the man who hit her husband gave evidence.
Ali Qasemi, 45, whose wife Fawzia was pregnant with their third child, was delivering three pizzas costing just over £50 when he was attacked.
Joel Lawson, 25, admitted manslaughter and robbery at the start of the trial at Peterborough Crown Court.
Co-defendant Mark Lintott, 29, denies the same charges.
Mr Qasemi, who worked for Pizza Hut, hit his head on the pavement after being punched in the attempted robbery and he died two days later, the court heard.
'Threw a punch'
Lawson, of Goodhale Road, Norwich, told the court the group of friends had been drinking lager and using cocaine at Mr Lintott's flat in Shrewsbury Court, Peterborough, for most of the Saturday.
Mr Lintott said he was hungry, pulled some food menus out of a drawer and phoned Pizza Hut in the early hours of 8 May, Lawson said.
Lawson said Mr Lintott phoned in the takeaway order. He said Mr Lintott asked him to come outside as "back-up".
Mr Lintott provided a house number in his street that did not exist "so there was no comeback to his address", Lawson said.
He said he saw the delivery man Mr Qasemi, standing by his car facing away from them.
"Just as we met him he turned around and I threw a punch," Lawson said.
Mr Qasemi's widow screamed at Lawson as he described the punch.
She yelled. "You evil people... Burn in hell, you're evil." She was escorted out of the court.
Asked why he was giving evidence, Lawson said: "I'm responsible... I made a huge mistake and this is the only thing I thought I could do to right that wrong."
The trial continues.