Families evicted for Peterborough homeless centre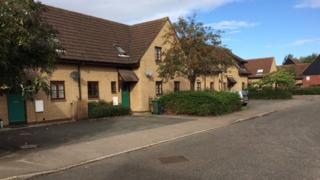 More than 70 families are to be evicted from a housing complex to make way for homeless people.
Peterborough City Council voted to accept the deal to replace tenants at St Michael's Gate with people from its homeless list, although committee chair Steve Allen said it "stunk of fish".
City MP Stewart Jackson said the council's decision was "disappointing" and he raised the issue in the Commons.
Landlord Stef & Philips has not responded to requests for comment.
Tenant Tony Roberts said the deal was "ripping apart a little community" and it would "just move people around" rather than solve homelessness.
The Tesco worker was initially told he had to be out of the two-bed house he shares with his wife by 17 November, but Stef & Philips has now told him he can stay until the end of his contract in April.
The council's director for communities Adrian Chapman said the London-based company had confirmed in writing that "about 10 authorities would be interested in placing their homeless people" at St Michael's Gate, so Peterborough City Council accepted the deal as a means of housing its own homeless.
The Conservative council is paying nearly £1m a year to house homeless people, which includes putting up some families at the city's Travelodge.
The authority's scrutiny committee took a vote on the deal after Liberal Democrat councillor Darren Fower asked for the "terrible situation" to be reconsidered.
It was approved with a casting vote from Conservative chair of the committee Steve Allen, who said Stef & Philips' business model "stunk of fish".
Mr Chapman said the authority will help the tenants find new accommodation.
Stef & Philips was set up as an estate agent in north London in 2005 and entered the social housing market in 2012.
Hannah Olsson, political reporter, BBC Radio Cambridgeshire
"Stuck between a rock and a hard place" was the phrase that struck me from last night's meeting.
The council say they have been put in a difficult position by the owners of St Michael's Gate because if they don't take them up on the deal there are plenty of other local authorities that will.
If that is the case, it raises bigger questions about the amount of money that property companies are able to make from deals like this, and also why there is a growing number of homeless people coming to councils for assistance.
But of course those questions take time to answer, and won't help the residents of St Michael's Gate, some of whom face being turfed out of their homes before Christmas.