Fire crews rescue dog stuck down hole in St Neots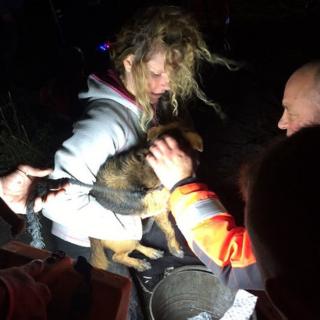 Eight firefighters helped rescue a dog stuck in a hole for hours.
Fire crews were called by the RSPCA after the Jack Russell mix called Poppy became stuck underground at St Neots in Cambridgeshire.
Using an underground camera on a long cable and thermal imaging equipment, the firefighters spent nearly two hours trying to locate the animal.
Once they found Poppy, they pumped oxygen into the hole, then brought her out and reunited her with her owner.
For more stories about rescued animals follow BBC England's Pinterest board
Watch Commander Rob Robinson said they covered an area about 50m by 50m, moving from hole to hole, shouting then listening to try and locate the area where the dog was at about 17:50 BST on Tuesday.
"Poppy's the kind of breed that likes to follow rabbits down a hole but once you get underground the holes branch out and very soon you are two or three feet down," he said.
"You could hear the dog whimpering, you could tell it was distressed," he added.
"It took a lot of people and some co-ordination to dig in the right area because we had to dig a bit, listen, eliminate the area and move along."