Prisoner battered cellmate to death with flat screen TV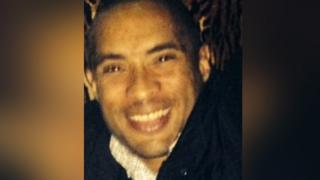 A prisoner has been convicted of battering his cellmate to death with a flat screen television.
Jordan Palmer, 26, attacked 42-year-old Terrence Ojuederie, who had the bottom bunk of their cell at HMP Peterborough.
Prison officers suspected he had taken the synthetic cannabis drug, Spice, shortly before the attack on 9 December.
Palmer was cleared of murder but convicted of manslaughter due to diminished responsibility.
Peterborough Crown Court heard the defendant, who was serving six years for grievous bodily harm, had complained of feeling unwell shortly before killing his cellmate.
Det Ch Insp Adam Gallop said: "The attack was one of the most vicious I have seen, and happened at a time when Terry Ojuederie was unable to defend himself or escape.
"I can only say as some small consolation that in all probability Terry would have lost consciousness very quickly."
He commended the victim's family for the "dignity and respect" they demonstrated throughout the trial.
In a statement, his relatives said: "Terry was brutally killed in a frenzied, one-sided attack by his cellmate.
"Nothing can bring Terry back to us or take away the pain and devastation we are living with each day."
Palmer is due to be sentenced on Thursday.