Aston Martin Cambridge IWM airfield crash injures two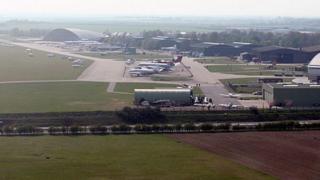 An Aston Martin crashed off an airfield runway and ended up in a field during a corporate event, injuring two people.
The accident happened at Imperial War Museum Duxford, in Cambridgeshire, at about 11:15 BST on Tuesday.
An Aston Martin employee was driving the car with the airfield manager ahead of the event.
Both men were taken to Addenbrooke's Hospital. The airfield boss remains in hospital with serious injuries.
A spokeswoman for Jardine Motors Group, which owns Aston Martin Cambridge, confirmed the accident happened ahead of an event to hand over eight exclusive £180,000 supercars to their new owners.
Part of the corporate day included "the chance to drive their V12 Vantage S Spitfire 80 at high speed on IWM Duxford's historic runway".
Passenger 'extricated'
An "Aston Martin driver" was carrying out a recce of the runway with Duxford's airfield manager before the owners' chance to drive their own vehicles, the spokeswoman said.
The driver left the runway, went through a perimeter fence and ended up in a field.
The accident did not involve one of the new supercars, she said.
The fire service confirmed the driver was able to get out of the car but the passenger had to be "extricated".
The passenger, airfield manager Thomas Turner, was named by his friend Simon Moores, who tweeted about the accident.
He said Mr Turner is well-known to people in the aviation industry and is a "very professional and experienced airfield manager and controller".
The Aston Martin corporate day went ahead without the driving "experience", the Jardine spokeswoman said.
None of the new car owners were present at the time of the crash, she added.