George Best's Rolls-Royce sells for £12,500 at auction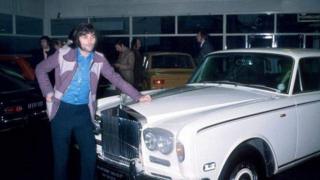 A Rolls-Royce once owned by football legend George Best has been sold at auction for just over £12,500.
The 1972 Silver Shadow was bought by the Manchester United and Northern Ireland superstar in the December of that year.
It went under the hammer at the Imperial War Museum in Duxford, Cambridgeshire.
The auctioneer from H&H Classics told bidders there was "fantastic history with this particular Rolls-Royce".
Bidders were told the car featured its original black leather upholstery, tinted glass, an internally adjustable mirror and "automatic cruise control".
H&H Classics said the Rolls-Royce had been repainted since it was owned by Best.
The car had been owned since 1994 by the vendor, who spent £22,000 refurbishing it.