Eleven cows killed in train strike near Peterborough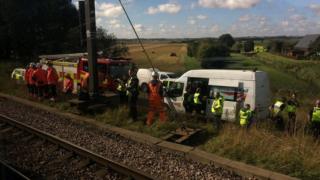 Eleven cows were killed when they were struck by a train, causing long delays for passengers.
The southbound Great Northern Rail service train struck the animals near Peterborough.
Among those held up were football fans travelling to watch the Premier League match between Burnley and Arsenal.
In a tweet, Great Northern Rail said: "There are 11 cows confirmed deceased, there are a further 15 missing from the field."
The company had posted a message on its Twitter feed at about 10:10 BST that all lines were blocked between Peterborough and Huntingdon "due to cattle on the railway".
It announced lines had reopened about five hours later.
Many football fans posted tweets saying they had been unable to get to Burnley to watch the Clarets' afternoon match against Arsenal.
Paul Curry, one of the passengers on the train, said: "Oh dear. My train home has hit a cow. It smells terrible."