Jonathan Theobald sentenced for letting dogs die in car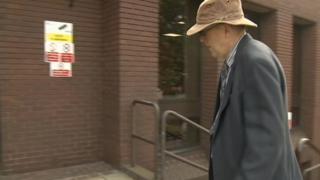 A man who allowed his three dogs to die a "long, slow, agonising death" by leaving them in a hot car has been given a suspended jail term and banned from keeping animals.
Jonathan Theobald, 65, left Staffie-types Daisy, Mitch and Rascal in a vehicle in Peterborough for about five hours on 16 June.
The pets "may have slowly cooked, essentially", the RSPCA said.
Theobald was sentenced to 18 weeks, suspended for two years.
He was banned from keeping any animals for 10 years and fined £365 plus costs at Peterborough Magistrates' Court.
The three dogs died after being left in his Volkswagen estate car on Ashbourne Road while Theobald, of Lincoln Road, Peterborough, went to a gym.
More on this and other news from Cambridgeshire
The RSPCA said gym users contacted police after spotting him "dragging the dogs' lifeless bodies from the car".
He unsuccessfully tried to resuscitate one of them and was later found by police at his home address with the dogs' bodies still inside the vehicle.
Earlier this month he appeared before magistrates and admitted one count of causing unnecessary suffering to the dogs by confining them in an environment which was detrimental to their well-being and led to their death.
RSPCA inspector Justin Stubbs, the investigating officer, said the weather on the day in question was "not hot, but warm", with temperatures between 16C and 19C (61-66F) and high humidity levels. He said he animals would have suffered a "long, slow, agonising death".
He added: "[They] would have overheated, they would have had fits. They may have slowly cooked, essentially."
Speaking before his first court appearance, Theobald said he was "appalled by what happened" and had "shed a lot of tears since then".
The RSPCA brought the case against Theobald under Section 4 of the Animal Welfare Act 2006.