Council spends £1m on Travelodge rooms for the homeless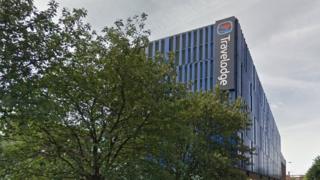 More than £1m has been spent on Travelodge rooms since April to house Peterborough families.
Peterborough City Council confirmed it had run out of hostel beds and bed and breakfast rooms after a "spike" in demand for support.
In August 150 people were classed as homeless, up from an average of 98 per month in the year to April.
The authority said that it was close to agreeing a deal to turn 74 properties into new hostel accommodation.
'Perfect storm'
The council said the Government's Universal Credit scheme was partly to blame for a rise in the number of people at risk of becoming homeless.
Under the scheme, housing benefit is paid to tenants instead of directly to landlords.
Adrian Chapman, service manager for adult services and communities at the authority, said it had coincided with a shortage of housing in the city.
He said: "We've seen a number of landlords in Peterborough deciding to sell up because it's no longer a viable business for them, partly down to new taxation rules.
"We've also seen a number of landlords who've decided to no longer accept housing benefit claimants.
"We just don't have the ready supply of available, suitable, affordable accommodation in Peterborough. Demand is simply outstripping supply.
"It's a perfect storm of issues to cause this unusual peak in demand."
The city council has forecast a £1.8m overspend this financial year, with £1.2m of that down to the cost of supporting people in temporary accommodation.