Parachutists in near-miss with plane after pilot flies through canopies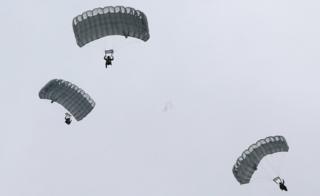 A light aircraft came within 300ft (91m) of eight parachutists after the pilot failed to spot them and flew the plane between their canopies.
The near-miss involving a Cessna 152 over Cambridgeshire was investigated by the UK Airprox Board (UKAB).
It had "simply been providence" that prevented the collision from happening in May, the board concluded.
UKAB said the pilot of the two-seater Cessna acknowledged he had "misappreciated his position".
Read more on this story and other news from Cambridgeshire
To avoid hitting the parachutists, who were about 2,000ft (607m) up in a parachute drop zone above Chatteris aerodrome, the pilot turned his aircraft to the right.
He told investigators "the execution of this flight was not perfect".
UKAB deemed the degree of risk to be in the most serious category.