Conington Airfield: Two planes almost crash in mid air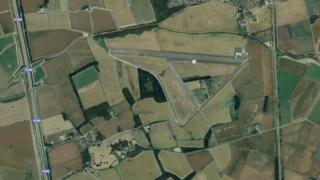 Two light aircraft came within 100ft (30m) of crashing above Cambridgeshire, an inquiry has found.
The planes were 1,000ft (305m) above Conington, near Peterborough, when the incident happened on 20 May.
A UK Airprox report said it involved an EV97, flown by a student pilot under supervision, and an Extra 200.
It said the risk of collision was "high" but that both pilots "shared an equal responsibility for collision avoidance".
According to the report, the Extra 200 pilot was "hard of hearing" and "frequently" flew into Conington Airfield, which was "familiar with his non-radio flights".
On this occasion, "he believed that because his non-radio approach was booked the tower would communicate as necessary with other aircraft in the circuit".
However, the report said the student had heard the controller asking the Extra 200 pilot to repeat his call, to which there was no response.
It said the student - whose instructor took control of the plane to bring it into landing - did not see the Extra 200 until late and the Extra 200 pilot did not see the student's plane until after the event.
The inquiry found the pilot of the Extra 200 "did not integrate with the EV97 in the visual circuit", as required by safety protocols.
It also found "communications had broken down".
The investigation concluded "safety margins had been much reduced below the norm" and the risk of collision was "high".